PianoFest: a piano event for the amateur
Help PianoFest to take place every year!
PianoFest needs your help to be able to offer you a festival every year. With your contribution we can pay all the professionals that contribute to the programme. You can do a donation here.
If you have a question, do not hesitate to contact us at info@pianofest.nl.
And follow us on: Facebook, Instagram, Twitter
About Us
The Board - foundation PianoFest Lizzy Beekman (chairman / business coordinator), Irene Witmer secretary / production). The board receives artistic advice from David Kuyken of the Conservatory of Amsterdam.
Vision
The PianoFest Foundation is gives amateurs a professional platform to perform and creates at the same time audiences for professional performing arts.
Objective
Encouraging active participation and involvement in practicing piano music by contributing to:
the development of the talent of amateur musicians, possibly, but not necessarily as a stepping-stone to a professional practice;
the social embedding of music by showing that practicing music is accessible to everyone and not just for a small elite;
the cultivation of audiences for (among others, classical, jazz, contemporary, etc.) music and other performing arts.
Cultural ANBI Status
Foundation PianoFest has had a cultural ANBI (Public Benefit Organization) status since December 2017. RSIN: 858218562 Chamber of Commerce: 70256624
Contact us for any question through info@pianofest.nl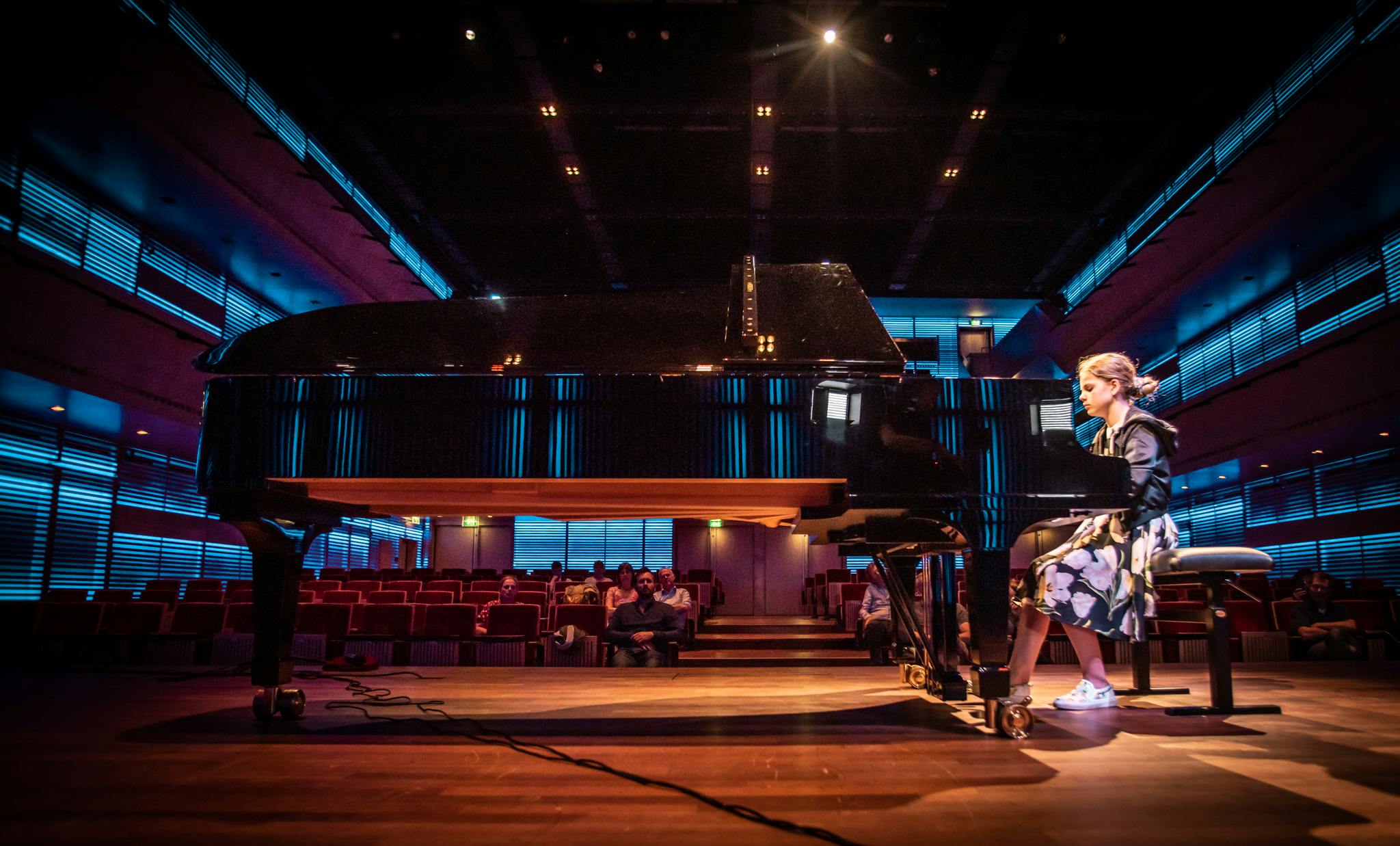 Past Events
PianoFest in de Bijlmer
The Bijlmerpark Theater - 23 June 2021
Together with the Bijlmer Parktheater in Amsterdam, we offered 24 amateur pianists the unique opportunity to perform in the main hall on a beautiful concert grand piano. And there was more: Elvis Ediagbonya gave an improvisation workshop that day.
Workshop "Play from your heart" by Elvis Ediagbonya
Elvis Ediagbonya (singer, pianist and conductor) took the participants into the world of improvisation and showed how the musical fantasy of participants could become reality.
Mini-masterclass by David Kuijken and Maartje Meijer
Participants played on a great concert grand piano, received feedback from one of these top teachers and a beautiful video recording of their performance.
About PianoFest in the Bijlmer
The amateur pianists can perform in the main hall of the Bijlmerparktheater in Amsterdam on a beautiful Bösendorfer 290 Imperial, made available by Bol Pianos & Vleugels. From beginner to advanced, from young to old, from classical or jazz music lovers to the creators of their own songs, all amateurs are welcome. You can also accompany yourself or play together with a friend
You can shine on the main stage for 20 minutes: You perform for 5 minutes, then you get a mini masterclass of 10 minutes. Then you play your repertoire again. A video recording will be made of your last performance. This will be sent to you afterwards together with the audio of the masterclass.PianoFest aan 't IJ
Muziekgebouw aan 't IJ - 4 & 10 July 2020
The corona crisis is hitting the cultural sector hard. Also for PianoFest there are a lot of uncertainties in terms of financial resources, availability of the building and of course the 1,5 meter distance, which makes it impossible to organise a public event with 1300 visitors. Therefore PianoFest decided to cancel the third festival edition of December 2020.
But we have come up with an alternative in this crazy time: PianoFest aan ´t IJ! Together with the Muziekgebouw aan ´t IJ in Amsterdam we are offering 50 amateur pianists a unique experience. On 4th and 10th of July 2020 you may perform your favourite music piece during 5 minutes on the biggest stage of the Muziekgebouw! Not with an audience this time, but we will make sure to catch your 5 minutes of fame on camera, so you can share it with whomever you want after the event. Straight after your performance you will receive feedback on stage from pianist, David Kuyken, principle teacher of piano at the Conservatory of Amsterdam and coordinator of the Sweelinck Academy. So you better start studying already!
Terms & Conditions
Participants should be amateur. Students currently enrolled in or graduated of vocational training at the conservatory, including preparatory education (from 15 years) and professional pianists, are excluded from participation;
To be able to participate and visit the event, you should be able to show the QR code in your Corona Check app;
Every amateur from 5 years old can participate in PianoFest;
Any level is allowed, beginners as well as more advanced level;
Participants can register for a solo performance or together with a partner (any instrument) ;
All music styles are allowed: light, classical, jazz, contemporary music as well as an own compositions;
Each participant is given 10 minutes of playing time prior to the performance;
The repertoire should not be longer then five minutes;
Straight after the performance, the participant receives short oral feedback from David Kuyken or Maartje Meijer on stage. The feedback is also recorded and sent separately to the participant;
A maximum of 4 performances are selected based on musical interpretation, music style, age, level, etc.
Guidance behind the stages is only allowed for children up to the age of 12 by one person;

The registration will only be confirmed after payment has been made
When registering, participants state their 5-minute repertoire. Pay attention! This should not be longer than 5 minutes. Changes can be made by email to maarten@pianofest.nl
The 2021 ticket fee is € 60 per 5-minute play session. A participant may participate once.
PianoFest determines the final program of the festival and reserves the right to make changes;
The registration fee is not refundable in case of cancellation. In case of cancellation, an email must be sent to info@pianofest.nl. If a participant is younger than 18, it is assumed that the parents or guardian agree to the registration and the conditions.
When registering, the participant automatically agrees with publication of name, age and repertoire in the program book and possibly the publication of image and sound material recorded during the festival. PianoFest retains the (broadcasting) rights of the video recordings made of the performances. If you object to this, please contact the PianoFest team.